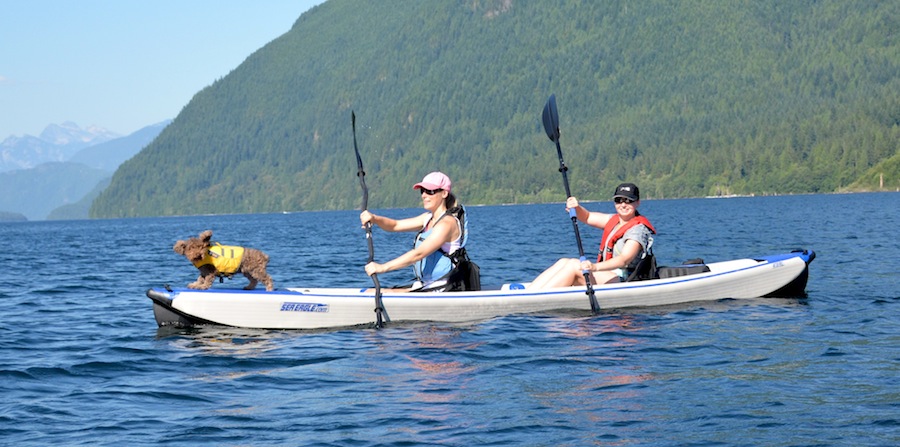 The solo 393rl kayak has quickly become my absolute favorite inflatable kayak and I paddle it now all the time.
I was excited to try out the new tandem version, the 473rl to see how it compared.
As expected it was equally as strong and rigid. It paddled straight and glided nicely.
It is quite a bit heavier than the solo 393rl… a full ten pounds heavier. However it provides lots of room for paddling with a partner or for loading up with gear.
It can hold up to 750 lbs. so it can be loaded right up and still paddle well.
I preferred my 393rl when paddling solo but the fact that the 473rl can be paddled tandem or converted for solo use is a great feature.
Best Uses: Lakes, ocean bays, calm rivers
Brand: Sea Eagle
Number of Paddlers: 1 – 2
Specs: Length 15.5', Width 30", Weight 38 lbs., Load Capacity 750 lbs.
Accessories Included: Removable rear fin, 2 adjustable footrests, 2 tall back seats with comfort seat pad, 2 paddles, high-pressure pump with pressure gauge, repair kit, backpack carry bag
Kayak Material: 1100 Decitex Reinforced, all drop stitch material
Standard Features: 3 one-way air valves, 14 D-rings. 2 footrests, 2 open and close drain valves, fully constructed with drop stitch technology, NMMA Certified, front and rear spray skirts, padded carry handles
PROS:
Long and lean
Glides smoothly
Moves fast
Straight tracking
Comfortable high-back seat
More stable than the smaller 393 Razorlite
Can hold up to 500 lbs.
Quick & easy setup
Extremely durable
Can be inflated to a high air pressure creating a very rigid kayak
Can be converted from tandem to solo
Cons:
A little heavy to carry solo when inflated (weighs 38 lbs.)
Harder to turn if paddling solo
Click Here For The Best Deal On The Sea Eagle 473 Razorlite At SeaEagle.com.
MORE DETAILS ON THE 473RL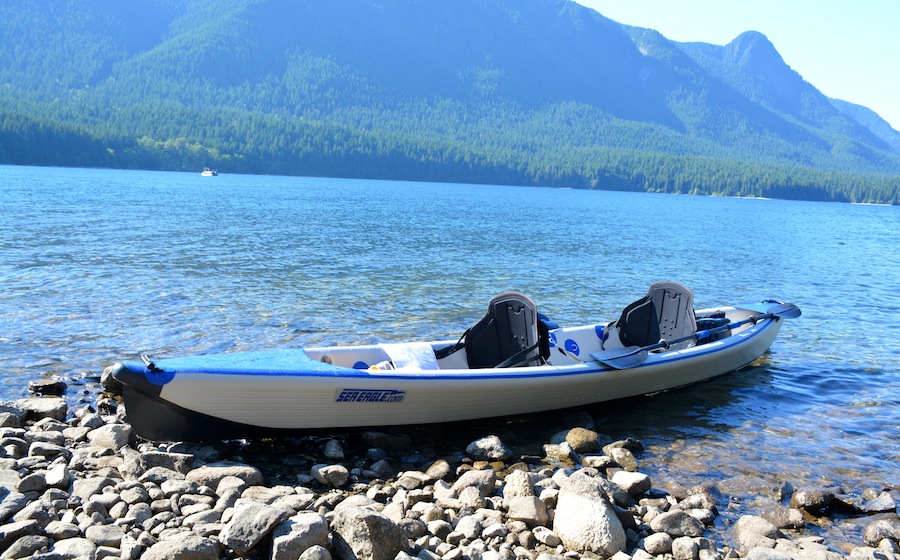 The 473rl RazorLite is really the ultimate 2-person flat-water inflatable kayak.
It is sleek and long giving it an edge performance wise over most other inflatable kayaks that have wider pontoon sides.
Plus the fact that it is constructed with all drop-stitch material means that it can be inflated up to 10 PSI… higher than any other IK I've tried.
The high air pressure creates an extremely rigid kayak and when I am out paddling people consistently are surprised to find out my kayak is an inflatable.
We took both the 393rl and the 473rl out together to get some comparison pictures and to get a feel for both, to see how they were different or similar.
I noticed right off the bat that the 473rl was a bit wider (2" wider). The sides kind of stuck out a bit more than they do on the 393rl.
It is still a narrow IK but the 30" width provides a good amount of stability and room when paddling with another person.
The length provides tons of legroom and overall I found it to be quite comfortable.
SETUP & WEIGHT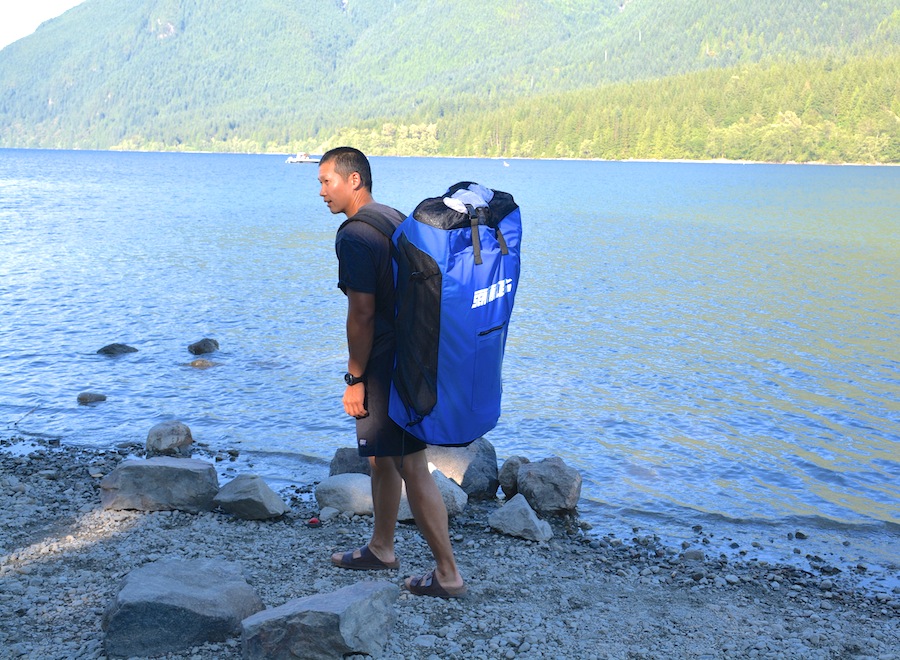 Compared to the solo model I definitely noticed the extra weight of the 473. It is almost 3' longer and a couple inches wider and consequently 10 lbs. heavier.
I personally wouldn't want to have to lug it too far in the backpack. I got my boyfriend to carry it to and from the water for me.
When inflated it is easily carried by two people. The carry handles at either end of the kayak are padded and we carried it quite a distance and even up a good sized hill when inflated with no trouble.
By yourself it would be a little trickier. An EZ cart would really help if you are out by yourself so you could pull it on wheels instead of trying to carry it alone.
From bag to water in under ten minutes.
Overall setup was fast and easy. Take the kayak out of the backpack – note how it is rolled up the first time you take it out as this will help you when you are trying to fit it back into the backpack after using it.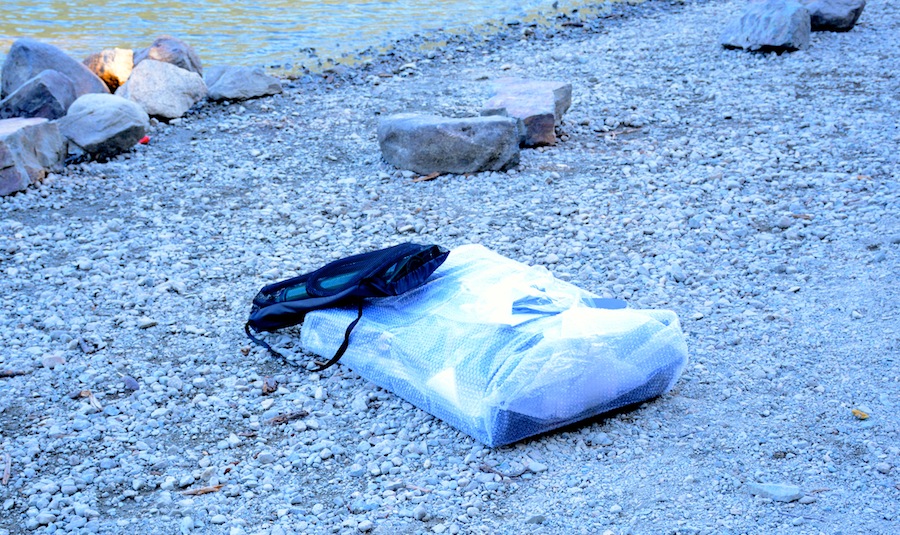 There are three main air chambers. There is one for the floor and one for each side.
Inflate the floor chamber first and then the two side chambers. The Sea Eagle website states that setup takes roughly 8 minutes.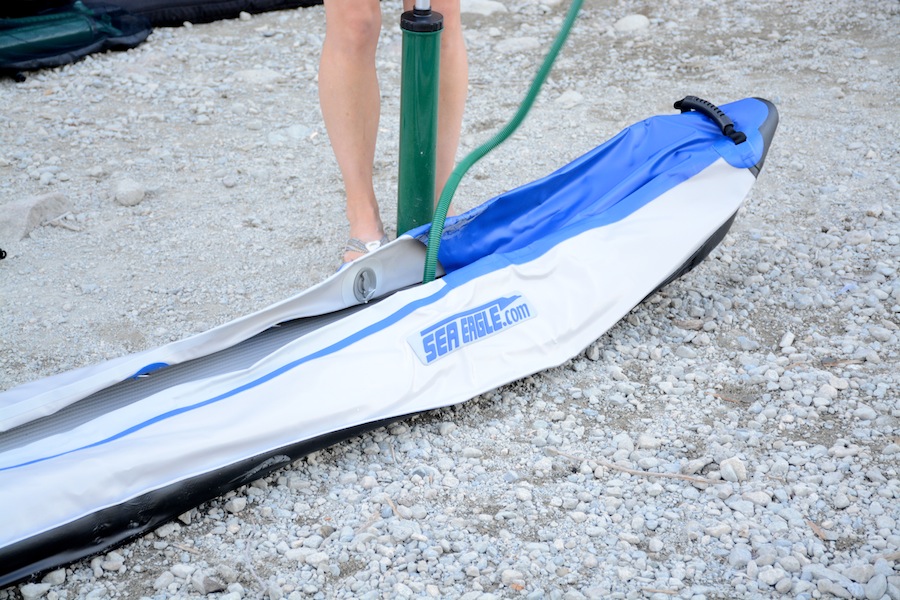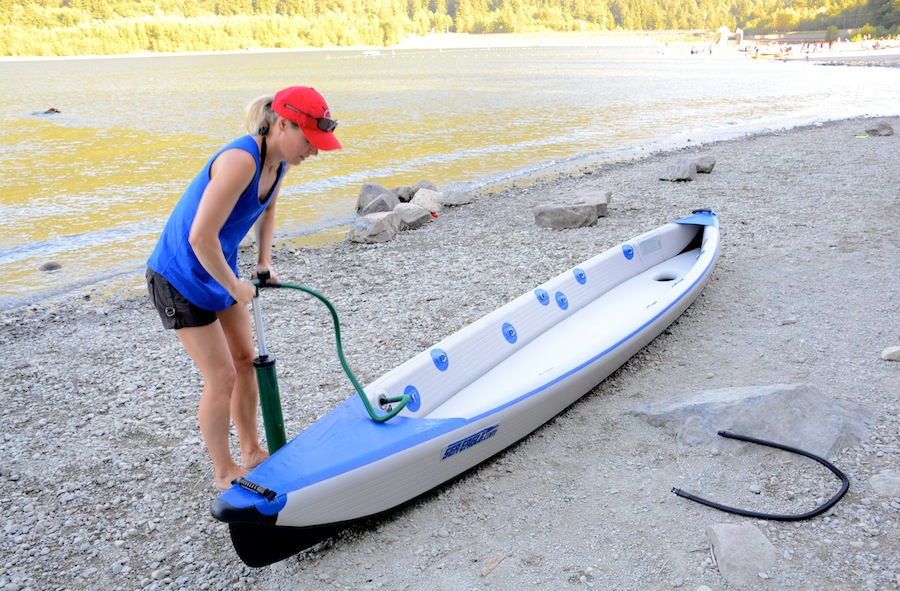 I would say that is correct. I think it took me a maximum of 8 minutes to get the board out of the bag, inflate it, attach the fin and the seats and get on the water.
It might take a few extra minutes the first time out but once you know what you are doing it is super fast.
I did notice that it took slightly longer to inflate it than the solo model. I expected that however since it is quite a bit longer.
SEATS
Once inflated you can attach the seats and the footrests to the D-rings. There are 14 D-rings on this kayak! There are lots to choose from so you can place the seats where you are most comfortable.
If paddling solo simply attach one seat around the center of the kayak.
I find the seats to be extremely comfortable.  They have a nice padded bottom and a high back that curves around and fits snugly against your back.
The seats are ideal for touring and comfort.  There is also a zippered pouch for small gear or snacks attached to the back of the seats.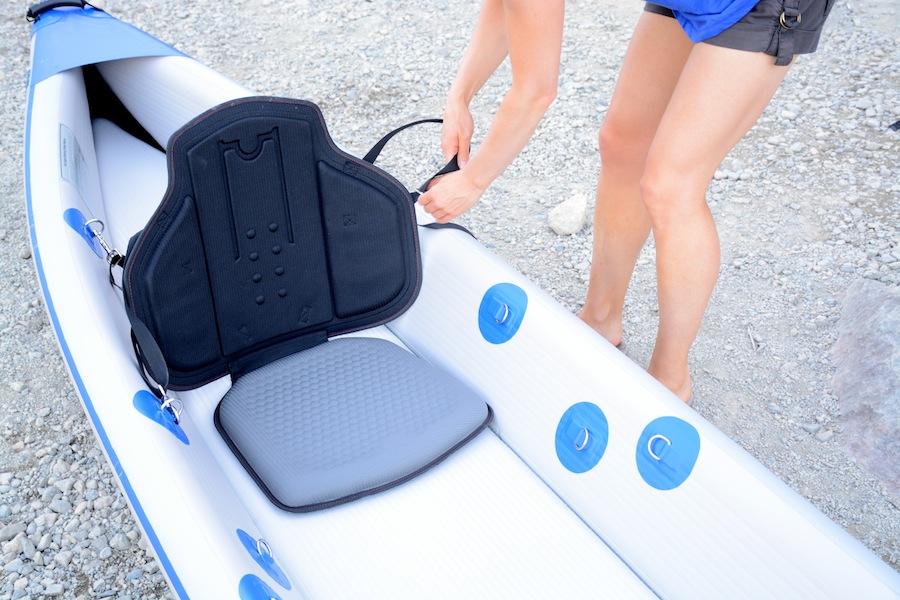 PUMP & FIN
It is worth noting that the pump that comes with this package works great. It has a pressure gauge so you can watch your progress and I find this pump easier to use than most other hand pumps I've tried.
The fin has a nice curve to it and really helps with the tracking. It is easy to slide and clip into place. Once attached it is secure and strong.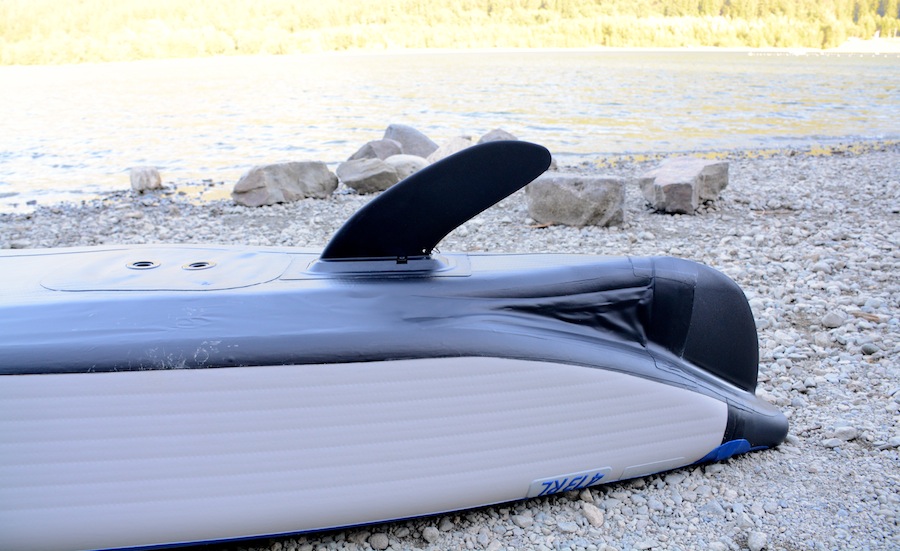 If you are paddling in really shallow water keep the fin off. Tracking won't be as good but it will allow you to maneuver through extremely shallow areas.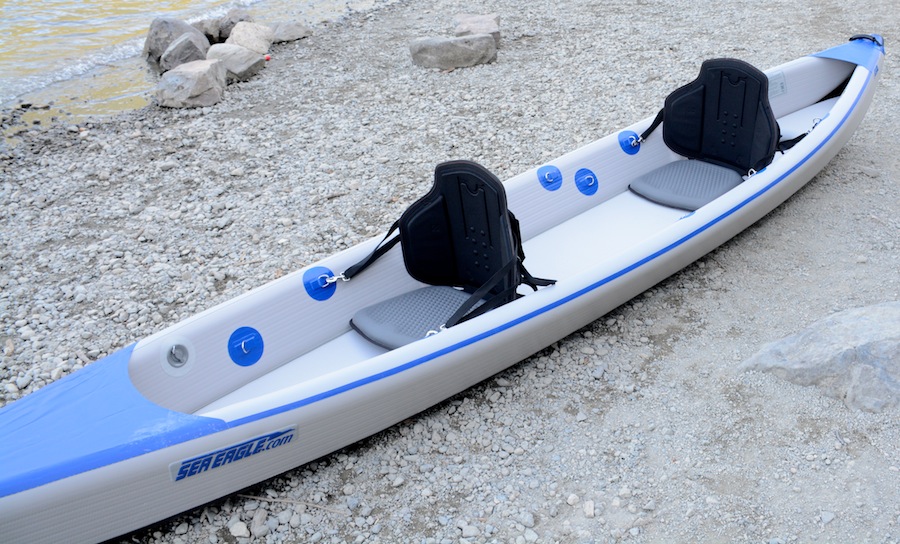 473 RAZORLITE PERFORMANCE
The first time I took the 473rl out it was super windy. I paddled it tandem with a friend and we had to work in the choppy water.
I found we got moving quickly and we covered some real distance in a short period of time even in the wind.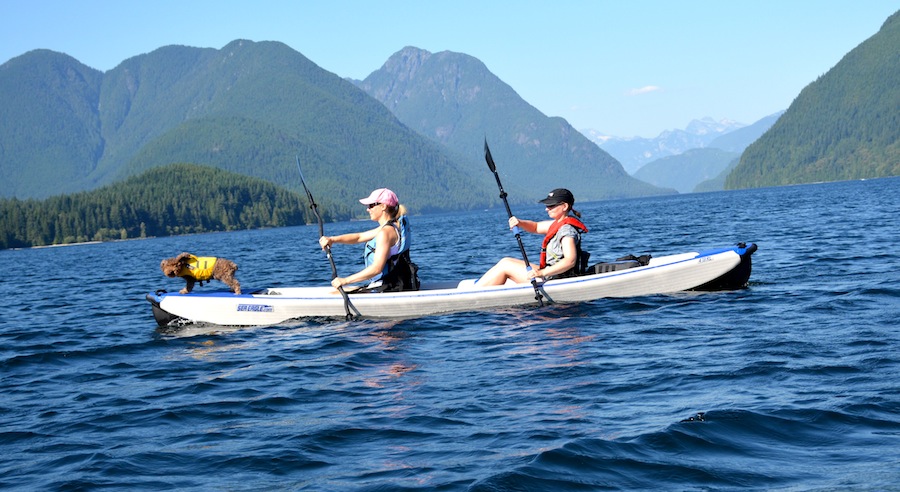 I am more of a solo paddler so paddling tandem is always an adjustment for me.
However I found the 473rl comfortable and overall quite easy to paddle with two people. We both had lots of legroom and we reached our destination in no time.
After paddling it tandem I wanted to try a solo paddle. We docked on the beach, removed one seat and moved the solo seat to the center of the kayak.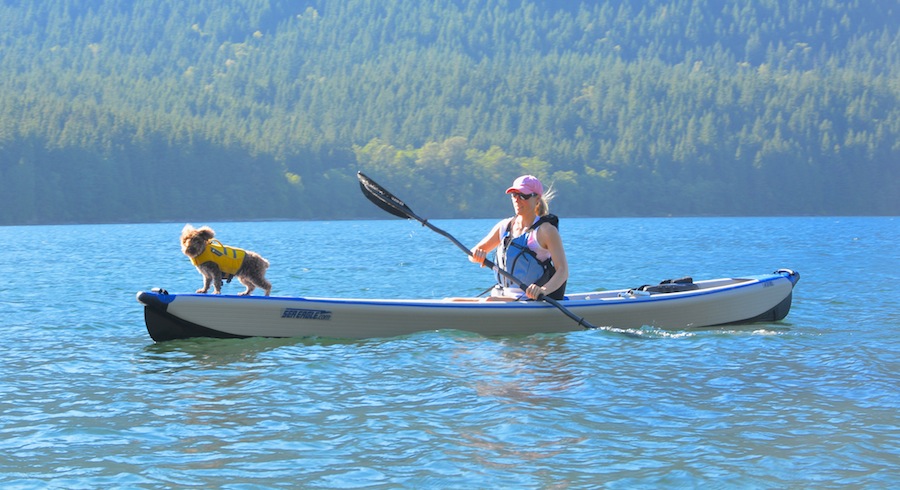 When paddling solo there is tons of room in this kayak. If you are tall you will appreciate the abundance of legroom.
It felt heavier to paddle solo and took more effort to get moving. Once moving however it still glided nicely.
I found it much harder to turn by myself, especially in the wind, but totally doable.
I was working hard through the wind to get to my destination. However once the wind thankfully died down, it was lovely.
With no wind I didn't have to struggle so much and it became a real pleasure to paddle.
I definitely prefer paddling my 393rl if I'm going out solo.  However for a larger, stronger person I am sure they would be quite happy paddling the 473rl by themselves.
If you want a super portable performance tandem kayak that has the option of being paddled solo, this one is awesome.
FOOTREST
I like the footrest that comes with this package. It is basically just a plastic tube with an adjustable strap that attaches to the D-rings.
I find it really helps to press my feet against it. It helps to create more resistance and power in my stroke. I also find it helpful for my back.
My friend however preferred not using them and when we were paddling the 473rl together she removed hers and found she had more legroom and was more comfortable that way.
I like them and find they are quite useful and appreciate that they are included in the package deal. So it is just personal preference if you choose to use them or not.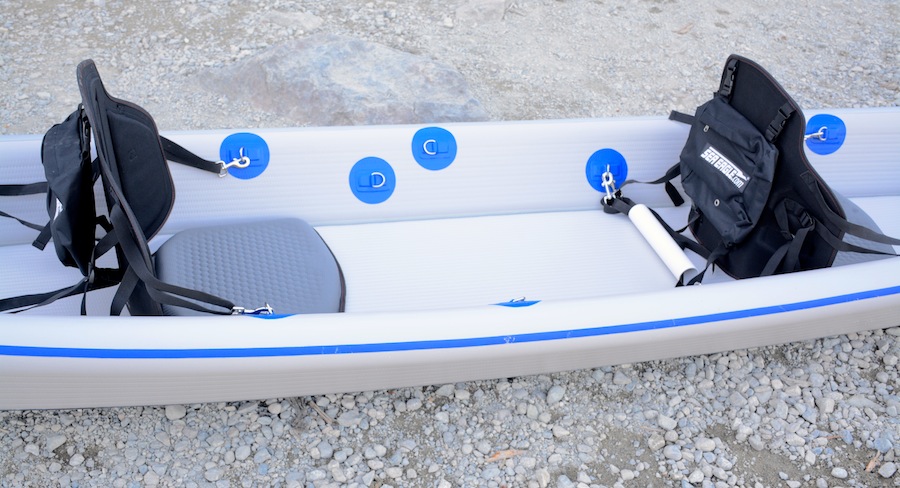 STABILITY OF THE 473 RAZORLITE
The stability is very similar to the 393rl. It is a lean performance kayak and consequently is less stable than many other inflatable kayaks that have wider pontoon-like sides.
However I didn't find stability to be an issue.  We had no problems in the wind or choppy water at all.
Although it has a more 'tippy' feeling than many other IK's, it is still nearly impossible to capsize. Inflatables in general are awesome in that sense. You have to really work at it to go over.
Plus take a look at my dog Seth in most of these pictures.  He's a little nuts and has decided he prefers riding on the tip of the nose as opposed to inside the kayak.  Even in wind he was able to keep his balance up there and secure his spot as navigator.
Although he does tend to have excellent balance and he is quite small, I don't think he would be able to stay up there without falling in if this kayak wasn't stable.
Paddling solo I still felt very comfortable stability wise.  I don't think anyone would have any issues.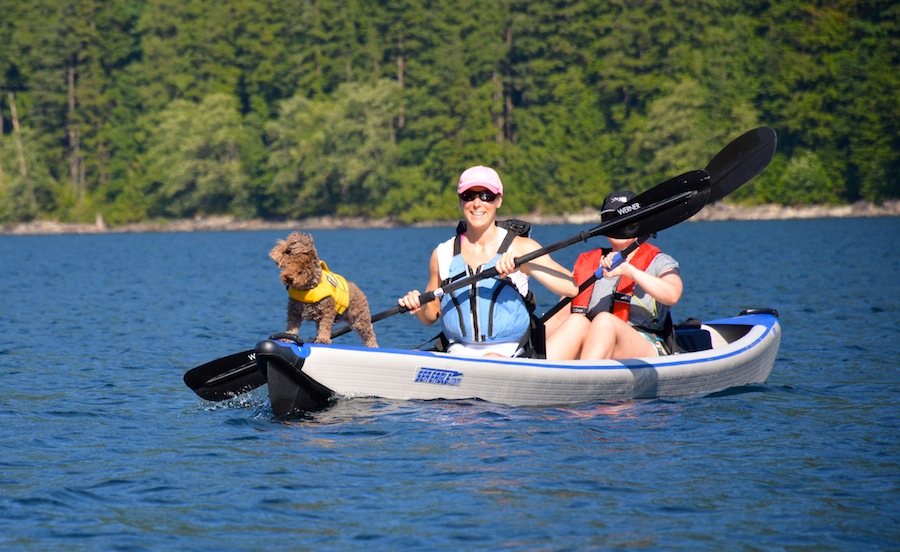 RIGID AND FAST
The RazorLite kayaks are all one piece. The sides of the kayak are made with 3" drop-stitch material and the floor is made with 4" drop-stitch material.
It is very well made and when inflated up to 10 PSI it is extremely rigid. I've actually inflated mine up to 12 PSI… it seems to be able to hold the extra air pressure with no trouble. However it is rated for 10 PSI.
These are the most rigid inflatable kayaks on the market and they are totally unique.
Once inflated the rigidity is impressive. I am constantly getting comments from other people at the beach who watch us inflate them and can't believe how great they are and how quickly they set up.
On the water they glide beautifully. I paddle my RazorLite alongside hard-shell kayaks all the time and it keeps up really well. In fact I would say it excels.
ATTACHED FLOOR
This kayak has an attached floor, which I find makes it very easy to dry off and pack away.
There are a couple areas at the front and end of the kayak where water can pool if you get any water in there.
I find that I usually will tip my kayak right upside down once docked to rid it of any excess water.
Once you've done that it is very easy to dry up and pack away. It only takes a couple minutes.
There are two drain valves if you are in choppier water and want to drain water from the kayak while paddling. I rarely use them but they are handy to have.
473RL PACKAGE OPTIONS
Right now there are three different packages to choose from.
1. PRO PACKAGE – Includes the kayak, the rear removable fin, 2 padded tall back seats, 2 AB40 4-part paddles, 2 foot rests, backpack, high-pressure pump with pressure gauge and repair kit.
2. PRO CARBON PACKAGE – Includes everything from the first package but instead of the AB40 paddles it includes two lighter 2-piece AB50 carbon fiber paddles (half a pound lighter).
3. ADVENTURE PACKAGE – Includes everything from the first package except it swaps the paddles for two AB60 paddles. These paddles are adjustable and have an ergonomic carbon blend shaft.
MORE PICTURES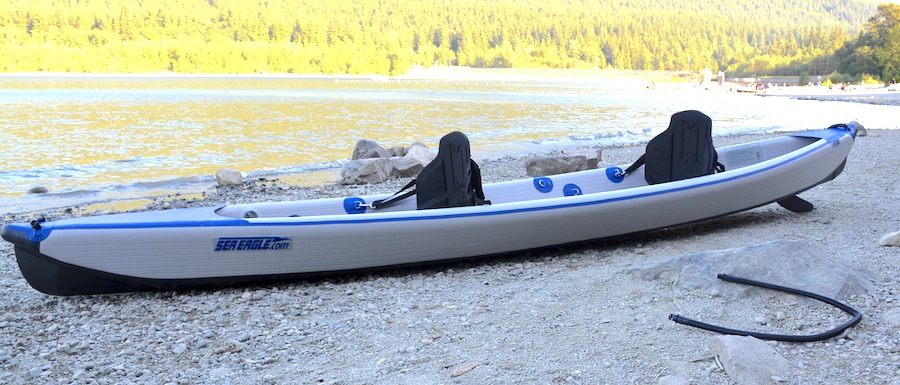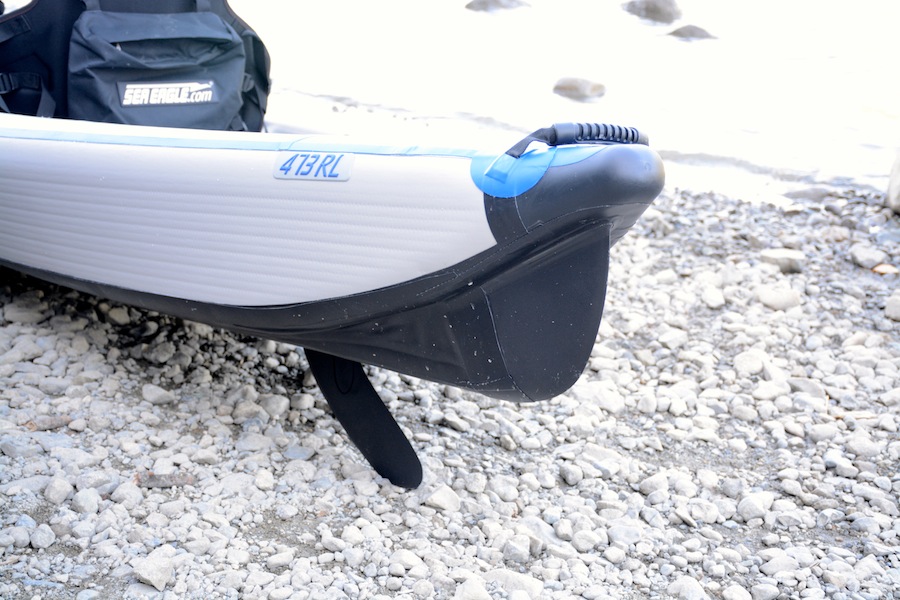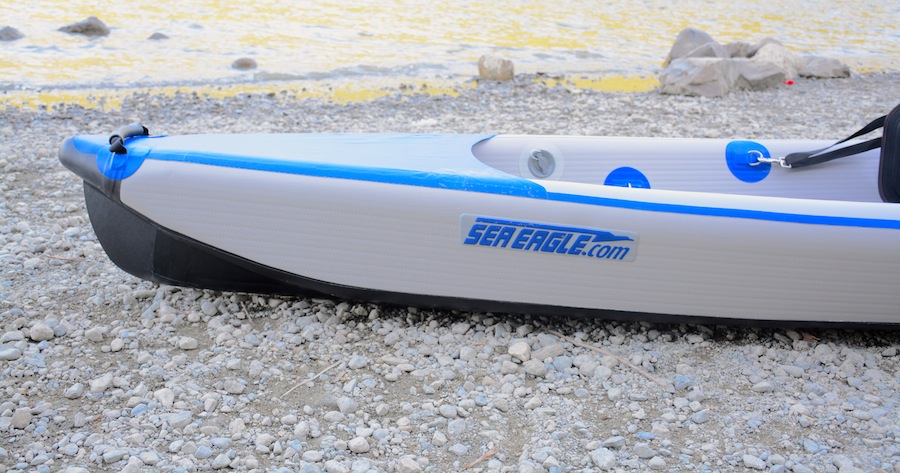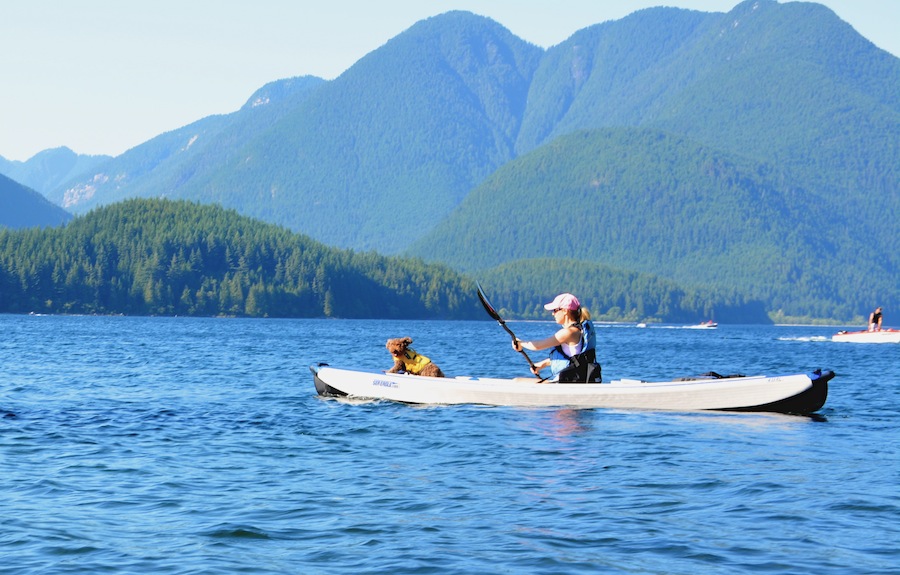 473RL BESIDE THE 393RL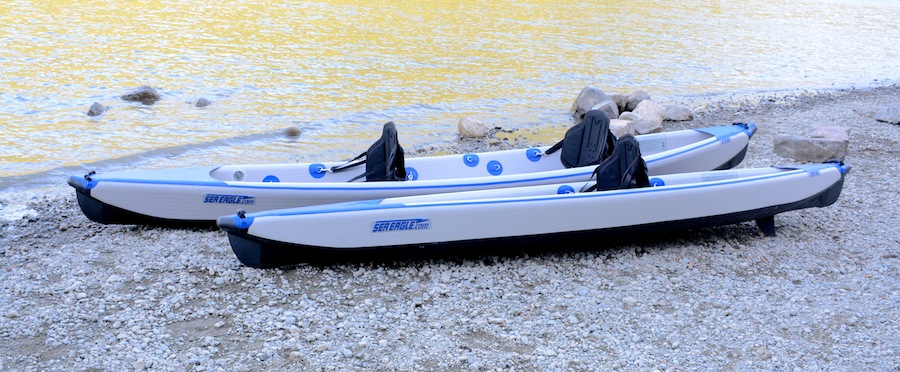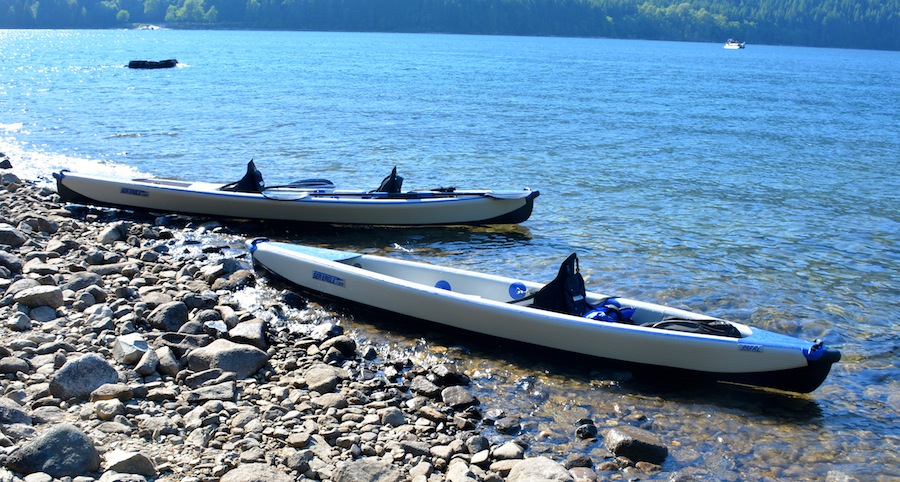 FINAL THOUGHTS
For solo paddling I prefer my Sea Eagle 393rl. I find it easier to paddle and turn and carry.
However for tandem paddling and for those who want a convertible kayak that can be paddled tandem or solo, the 473rl is awesome.
A little on the heavy side but overall a fantastic addition to the inflatable kayak world.
Looks great, paddles well, glides smoothly, goes fast and is still very portable.
I am a big fan of the RazorLite, it is definitely my kayak of choice for flat water paddling.
The 473rl comes with a great 3-year warranty.